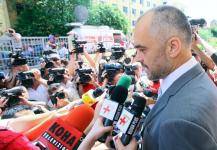 TIRANA, Albania
Albanian Socialist Party leader Edi Rama confirmed Monday that he will seek to retain the party leadership in the movement's upcoming extraordinary congress.
Speaking to Tirana daily Shekulli, Rama said, "I will run for re-election," adding that, despite calls for his resignation, he was proud of the internal party reforms undertaken during his leadership tenure. 
The Socialist Party, "is a space where there is freedom to expose differing opinions and [the] concrete possibility of democratic competition," he said.
Criticism has been mounting of Rama's record as party chair, and challengers are arising, keen to wrest control of Albania's largest opposition party.
The June 28 parliamentary election defeat, which consigned the party to four more years in the opposition, has spawned rancour concerning Rama's management of the electoral campaign and prompted criticism of his leadership style.
Albania's Central Electoral Commission reports that the coalition dominated by Sali Berisha's Democratic Party, known as the Alliance for Change, has so far won 70 deputies. The Socialist-led opposition coalition appears to have snared 66 deputies, while the Socialist Movement for Integration, LSI, looks set to win four seats.
To form a new government, a political party, or coalition needs 71 mandates in the 140-seat unicameral assembly.
Berisha has joined forces with the leftist LSI – a Socialist Party splinter – creating a new alliance, which is expected to form the government when the new parliament meets in September.
The LSI, headed by former Socialist prime minister Ilir Meta, tried repeatedly to cooperate with Rama before the elections. However, their overtures were bluntly rejected by the Socialist leader. Had the Socialists joined forces with the LSI, they would have secured enough seats to form a new government.
A Socialist party statute, which Rama himself had a role in creating, says the party leader must resign if he loses a parliamentary election.
A group headed by former education minister Ben Blushi is expected to bring a motion in the September party congress seeking Rama's automatic dismissal from the race, in keeping with the party statute.
"The statute is not the Bible or the Koran but a set of principles for an organisation, which have to be modelled to [fit] circumstances," said Rama, responding to criticism that he is breaching the same by seeking re-election.