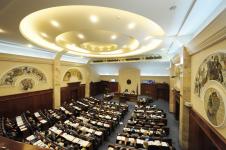 SKOPJE, Macedonia
New legislation, reforming the functioning of parliament in line with EU accession pre-conditions, looks set to feature on the agenda of Monday's legislative session.
After a short summer break, Macedonia's legislators have until September 15 to pass a series of laws that the European Commission, EC, has set as benchmarks for Macedonia's progress towards EU integration. On that date, the EC will start writing this year's report on the country's reform progress.
Last month, the parliament adopted amendments to the law on the financing of political parties, but still has to work on emendations to laws covering state administration in order to receive a positive EC report. The legislature will also have to push for the quick application of a law on the official use of languages.
If all the requirements are met, Skopje hopes that the EC report will include a recommended date for the start of EU accession talks.
"Getting the date is our top priority," Macedonian Prime Minister Nikola Gruevski told local media on Sunday. He urged the parliament to speed up its work thereon.
Problems may yet arise.
So far, it's not known whether a law on the functioning of parliament will be adopted by consensus, because the opposition New Democracy party demands greater use of the Albanian language in parliament. The main ruling centre-right VMRO-DPMNE and its ethnic Albanian coalition partner, the Democratic Union for Integration, said they have not discussed New Democracy's proposed amendments.
In addition, another ethnic Albanian party, the opposition Democratic Party of Albanians, DPA, said it will boycott parliament over what they claim is "the government's neglect of the rights of Albanians".
This will not harm the adoption of legislation since the DPA only has three deputies in the 120-seat parliament, but may have an impact on EC reporting on another benchmark: the maintenance of a positive political dialogue.
If Macedonia falls short, this would be the fourth year in a row, since the country became an EU candidate state in 2005, that it has failed to meet the necessary criteria for the initiation of accession talks.