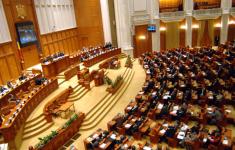 BUCHAREST, Romania
Romania's squabbling governing coalition agreed on Monday to put aside its differences, agreeing 32 anti-crisis measures that will be enforced on September 1.
Prime Minister Emil Boc's Democrat-Liberals (PD-L) and the Social Democrat Party (PSD) agreed to increase budget revenues, to cut budget spending and to increase liquidity in the banking system.
"Some 15 measures target economic stimulation; nine refer to the increase of budget revenues; six [are designed to] keep a tight grip on budget spending; and two measures refer to hiking monetary liquidity in the banking sector," PSD leader Mircea Geoana said.
"By adopting the anti-crisis measures the ruling coalition managed to overcome a political deadlock," Geoana added.
There have been growing signs of disagreement in recent weeks as both parties fight for popular support ahead of presidential elections, scheduled for later this year.
The election will pit Geoana against President Traian Basescu, who has ties to the PD-L. The primary disagreement within the governing coalition is over public spending, with the PD-L supporting a corporate lump sum tax and the PSD proposing spending more money on new investments, housing, farming and fiscal incentives.
The Romanian economy slid into recession this year as the world economic crisis hit consumption and reduced demand for Romanian goods abroad. Lending decreased significantly and the deepening crisis forced the Balkan country to negotiate a 20 billion euros IMF-led loan scheme in March.