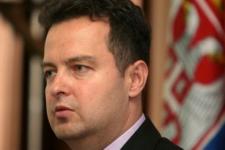 BELGRADE, Serbia
Serbian Interior Minister Ivica Dacic says that a draft protocol for cooperation between Serbian police and the EU rule of law mission in Kosovo, EULEX, has been completed, daily Politika reports Monday.
"It is in our best interests to stop crime in our territory […] and that is why the Interior Ministry is ready to sign a protocol for operative cooperation between our police and EULEX," the daily quoted Dacic as saying. 
He stressed that signing the protocol is necessary whether it deals with terrorism, groups that skip from one side of the administrative crossing to the other, terrorism, or illicit drugs and weapons smuggling.
The protocol was agreed in July in Belgrade with EU foreign policy chief Javier Solana and is the product of months of talks.
The daily reports that the protocol regulates cooperation between EULEX and the Serbian ministry in accordance with UN Resolution 1244 and a decision of the EU Council of Ministers – the UN resolution is the basis of the EULEX mandate.
The daily said that the ministry's pact with EULEX will be very similar to the agreement Belgrade had with the UN mission in Kosovo, UNMIK, police.
Dacic explained that the protocol will be based on a report by UN Secretary General Ban Ki-moon, which includes a six-point plan for cooperation between Serbia and international bodies in Kosovo.
The Kosovo government holds that EULEX does not have the mandate to sign international agreements, and says it has not been informed of the possible agreement with the Serbian Interior Ministry, broadcaster B92 reported Monday.
"Kosovo's president stated that only the institutions of the independent and sovereign Republic of Kosovo are competent to sign agreements for Kosovo," presidential spokesperson Xhavit Beqiri said.
Pristina daily Koha Ditore reported on Saturday that the protocol is expected to be signed and that Kosovo institutions will be completely excluded from the agreement.
Serbian Deputy Prime Minister Bozidar Djelic announced earlier that signing the EULEX pact is one of the technical conditions Serbia needs to fulfil in order for its citizens to enjoy visa-free travel to the EU from next year.