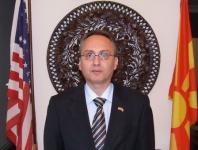 SKOPJE, Macedonia
Macedonia will respond to the latest proposals for solving the Athens-Skopje name row this week, the country's negotiator to the UN-mediated talks, Zoran Jolevski, told local media.
Jolevski, who is in Skopje for consultations with the state leadership, said on Sunday that he already spoken to President Georgi Ivanov, Prime Minister, Nikola Gruevski and Foreign Minister Antonio Milososki on the matter.
"The [UN] mediator Matthew Nimetz will receive the Macedonian positions on his latest, altered set of ideas during the course of this week," Jolevski told reporters.
Greece is also expected to convey its responses this week.
During his last visit to both countries in early July, Nimetz said he had handed to both sides an altered version of his last proposals for solving the spat. There was speculation in the media that he had tabled variations of the appellation Northern Macedonia for further consideration.
Last year, Greece blocked Macedonia's NATO accession over the long-standing naming row. Athens insists that Skopje's use of its formal name, Republic of Macedonia, implies it has territorial claims over Greece's own northern province of Macedonia.
On Monday, Macedonian daily Utrinski Vesnik cited an unnamed, high-ranking Macedonian diplomat as saying that the names Northern Republic of Macedonia or Republic of Macedonia (Northern) may constitute a sound basis for further Greek-Macedonian talks.
He argued that the same cannot be said for the option Republic of Northern Macedonia as this would fundamentally alter the country's name and would have implications for its identity, language and culture.
Observers fear that even if both countries agree on a possible compromise name the wider use thereof could still be an issue of disagreement.
Greece insists on the full international and domestic use (in Macedonia) of the new name, while Macedonia argues it should be used only in relations with Greece and not with the 120 countries that have already recognised its formal name.
Greece has threatened to block Macedonia's EU accession, pending the resolution of the dispute.