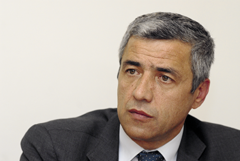 SERBIA, ALBANIA
Belgrade-Tirana relations can sharpen after Sali Berisha's statement about national unity of Albanians in the mother land and Kosovo, representative of the Ministry for Kosovo and Metohija in the Serbian government Oliver Ivanovic said.
Tirana's official response to Belgrade's protest note about "cooperation between Republic of Albania and Republic of Kosovo is totally natural", a provocation, Ivanovic said.
In his second mandate, Albanian Prime Minister Berisha puts an accent to national issue and integration of all Albanians.
Serbia treats Kosovo as its own teritory and statements, like the one Berisha gave, can only sharpen the relations, Ivanovic warned.