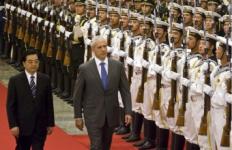 SERBIA
Serbian President Boris Tadic and his Chinese counterpart Hu Jintao have agreed in Beijing to establish a strategic partnership between the two countries, Xinhua news agency reported Thursday.
"To further promote bilateral relations […] the two sides have decided to establish a strategic partnership," a statement issued by the heads of state read.
The statement added that the partnership broadens and deepens the traditionally friendly relations between China and Serbia and touched on issues concerning sovereignty and territorial integrity, in which each country has an interest. 
Serbia pledged its ongoing oppostion to all Taiwanese independence moves, while China called for the status of Kosovo to be decided through a draft plan acceptable to the contending parties.
A Serbian delegation, led by Tadic, started a five-day state visit to China on Wednesday. The delegation, which includes Economy Minister Mladjan Dinkic, Foreign Minister Vuk Jeremic and Serbian businessmen, will also meet Chinese Premier Wen Jiabao and top legislator Wu Bangguo.
Tadic has expressed his satisfaction with the fact his country's relationship with China has become a pillar of Serbia's foreign policy at a time when the world's geopolitical order is changing, Fonet news agency reports.
Xinhua reports that special attention was paid to promoting economic cooperation and trade in the presidential parlay.
Serbian Economy Minister Mladjan Dinkic and Chinese Commerce Minister Chen Deming signed an agreement on economic and technological cooperation in infrastructure development.
Addressing participants of the Serbia-China Trade and Investment Forum on Thursday, Tadic proposed that bilateral cooperation include Chinese involvement in the building of a bridge on the Danube and the establishment of a duty free zone for Chinese companies in Serbia.
"Serbia hopes to discuss how to expand economic cooperation and welcomes Chinese enterprises to invest in Serbia," Xinhua quoted Tadic as saying. He added that Serbia will participate in the 2010 World Expo in Shanghai.
Chinese-Serbian trade reached US$125 million (88.4 million euros) in the first five months of this year, with the global downturn precipitating a 33.1 per cent drop in trade from the same period in 2008, China Daily reported on Wednesday.
Fonet reports that the Chinese postal authority has published up to 50,000 envelopes with Tadic's image and signature, in honour of his visit. A series of stamps featuring the Serbian flag has also been published, the agency says.