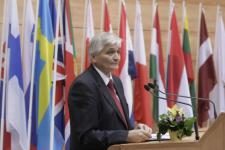 BiH
After months of political quarrels and disputes, Bosnia's new top EU negotiator will be appointed on Friday, Bosnian Premier Nikola Spiric said.
The appointment, if it indeed takes place, is only expected to further deepen political and ethnic divisions within Bosnia's state government, the Council of Ministers, over the appointment of heads of key state agencies.
At the government session on Thursday, Bosniak (Bosnian Muslim) ministers voted against the appointment of Bosnian Croat candidate, Lidija Topic, as the head of the Directorate for European Integrations. They also opposed the appointment of Bosnian Serb candidate Zoran Tegeltija, as the head of the Indirect Taxation Administration, and of Bosniak candidate Kemal Huseinovic, as the new leader of the Communications Regulatory Agency.
Bosniak ministers demanded that Spiric halt the appointments process until the country's leadership reaches a new agreement on the ethnic balance of key governmental positions.
Spiric, refused, accusing Bosniak ministers of "working towards the [three-way] ethnic division of Bosnia and Herzegovina".
Speaking to reporters after the session, Spiric said that Bosniak officials are holding up the appointments process deliberately to delay the closure of the Office of the High Representative, OHR, for as long as possible. The OHR's eventual closure will be discussed this November.
On Friday, Spiric told journalists that he expected Topic to be appointed Bosnia's new chief EU negotiator by the end of the day, in line with legal regulations.
The dispute over key appointments reflects growing political and ethnic tensions among the country's Bosnian Serb, Croat and Bosniak leaders.
All three of the agencies in question have been run in the past by Bosniaks, and the Bosniak leadership says it has the right to appoint new candidates to fill the three positions. Bosniak officials complain that under Spiric's leadership only four of 24 key appointments have gone to Bosniaks: 13 to Bosnian Serbs, six to Bosnian Croats and one to "other" ethnic minorities.
Spiric, who is a Bosnian Serb, says the three proposed candidates were selected due to the need for ethnic rotation, and as a result of a legal selection process. These points are disputed by the Bosniak leadership.
This dispute has been blocking the appointment of the three new agency heads for months and hampering the work of these institutions. The absence of an official EU negotiator has been particularly problematic, effecting the country's EU accession process and prompting strong criticism from the international community.