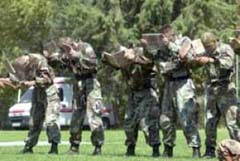 MACEDONIA
Troopers of the Macedonian and US army will start a training, which will be realized in Ilinden barrack and Krivolak boot camp.
Troopers from the regiment for special operations (RSO), the battalion of ARM's police and representatives from Vermont National guard will participate in the training.
The training's purpose, which will be realized in the next few days, is enriching and building battle skills of both armies.