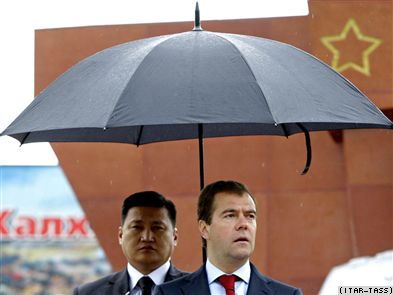 RUSSIA
Russia will never reverse its decision to recognize Abkhazia and South Ossetia as states independent of Georgia, President Dmitry Medvedev has said, the anniversary of the decision.
The Kremlin recognized the Moscow-backed regions as independent on August 26 of last year, weeks after Russian forces crushed a Georgian attempt to retake South Ossetia.
Georgia said the war and Moscow's recognition of the regions as independent states amounted to the seizure of its sovereign territory.
"I do not regret the decision," Medvedev told reporters during a state visit to the Mongolian capital, Ulan Bator. "For our country this decision is irreversible."
Moscow says its recognition was part of a bid to protect Russian citizens in the two provinces, which split from central Georgian control in wars in the 1990s.
The rest of the world, except from Nicaragua, still views the regions as part of Georgia, though Moscow has put intense pressure on allies to follow its lead in recognizing the regions.
Russia's Foreign Ministry on August 25 renewed its call for international recognition of the regions, saying it was the only way to guarantee peace and security in the region. Moscow has deployed hundreds of troops in each of the territories.
The anniversary was a public holiday in both Abkhazia and South Ossetia with concerts and fireworks planned.
South Ossetia on August 26 was to open a 160-kilometer gas pipeline linking the territory with Russia to cut its dependence on fuel transported through Georgia.