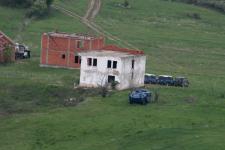 KOSOVO
The rebuilding of Kosovo Albanian homes in north Mitrovica was again delayed on Wednesday, when Serb members of Kosovo's Police and EU rule of law mission, EULEX, officials prevented workers from entering the construction site.
The Krou I Vitakut/Brdjani neighbourhood of Mitrovica has seen repeated violence since Kosovo Albanians began reconstruction work this year. On Tuesday, several people were injured after around 100 protesting Serbs and 20 Albanians threw stones at each other, halting work on the homes.
Construction was supposed to resume on Wednesday, but was not authorised by Kosovo and EULEX police, Musa Haliti, a site construction supervisor, confirmed.
"They placed police tape to prevent us Albanians from carrying on to our homes, where we began construction on Monday, and they won't let us pass to the other side," he told daily Express.
Mitrovica Mayor Bajram Rexhepi also expressed his irritation at Wednesday's work delay, accusing Kosovo police in the north of the city of not fulfilling their obligations.
"We need to reconsider their [police] performance, and regional police, or those that do their jobs in a nonaligned way, need to arrange security for the continuation of building," he said. Rexhepi added that "until today EULEX did their job well; but if they continue like today, trust will waver for sure".
Rexhepi said that he will meet Interior Minister Zenun Pajaziti to coordinate responses with the central government.
Referring to Tuesday's violence, Kosovo Prime Minister Hashim Thaci said, "The government […] has a strategy for the integration and return of people to their land. What happened yesterday [on Tuesday] should not happen."
Thaci added that "EULEX needs to be clearer and more decided" against the protesters who he dubbed "bandits with Kalashnikovs".
Mitrovica Spokesperson Sami Haliti says Kosovo Albanian workers did not attempt to enter the site today, and that this prompted Serb protestors to keep their distance.