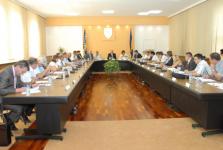 BiH
Bosnia's Federation entity is preparing to privatise around 30 public companies over the next year, local media reported on Thursday.
"Privatisation fever shakes the Federation of Bosnia and Herzegovina," columnist Faruk Vele wrote in a piece published in influential Sarajevo daily Dnevni Avaz on Thursday.
Authorities in the Croat-Bosniak (Bosnian Muslim) Federation say that the privatisation strategy should be finalised by the Federation Privatisation Agency within the next month.
The privatisations are expected to provide a badly needed financial infusion both for the companies involved and the country as a whole.
The most lucrative public companies will not be included in the sales. The Federation's two telecom companies, two power companies and the Sarajevo tobacco factory are all expected to remain under entity control. The reason for this is that government officials and economic experts believe that the likely offers for the top companies would fall far beyond their true value.
The Serb-dominated Republika Srpska entity has been pursuing an aggressive privatisation policy for the past three years. In contrast, Federation privatisations have been almost completely stalled during this period by power struggles among and between the ruling Bosniak and Croat parties.
Now that the Federation finds itself in a worsening economic and social situation due to the global recession, some officials favour speeding further asset sales, including the sale of the key remaining companies.
Meanwhile, due to poor management, bloated employees roles, and contracting regional and global markets, many state companies – such as former business giants Energoinvest, Hidrogradnja and Pretis – are finding themselves on the verge of bankruptcy and have not paid salaries to their workers in months.
Reflecting the opinions of most Bosnian economists, Faruk Vele wrote in his Thursday column that the Federation still appears ill-prepared for the privatisations process.