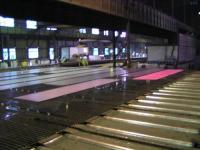 MACEDONIA
Macedonia's ongoing industrial output contraction plumbed new depths in July, the State Statistical Office revealed.
A record near 20 per cent output plunge was registered, when compared to July 2008. This is the tenth month in a row that industrial output has shrunk.
Macedonia's flagship metal industry was the hardest hit, experiencing a staggering 63 per cent drop in production. Textiles production also fell away badly, down 36 per cent and iron ore extraction fell by 24 per cent.
Overall, the Macedonian economy contracted by 13 per cent from January-July this year.
"These trends are catastrophic and their effects are yet to be seen," former finance minister Xhevdet Hajredini told local daily Utrinski Vesnik.
While companies are constantly pleading for state help, the cheap credits that are supposed to keep the economy afloat are late in coming due to procedural problems.
This year the government has already been forced to shave the state budget once, and is preparing for a second round of cuts
Despite a decrease in tax revenues, the government said it recently recorded the first signs of economic recovery.
The government still believes that industrial output will grow by one per cent this year, but the IMF is more pessimistic, forecasting a drop of around two per cent.