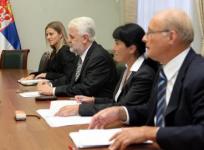 SERBIA
The Serbian government has proposed a 10 per cent cut in the number of public sector employees in talks with an IMF delegation, daily Blic reports.
The measure is intended to cover the budget deficit, which is now equivalent to 4.5 per cent of GDP
Economy Minister Mladjan Dinkic confirmed to Blic that the government has "presented a plan for the permanent reduction of public expenditure", that involves public sector reforms.
He said that the government would introduce new laws in autumn to this effect and that the number of public sector firings would not be the same in each municipality.
The IMF delegation, headed by Albert Jaeger, arrived in Belgrade on Monday to review Serbia's progress in meeting benchmarks established in negotiations for a €2.92 billion IMF standby loan, approved in March.
During the ten-day visit, IMF and Serbian officials are seeking measures to address the country's budget deficit. According to the officials, Belgrade is still looking to avoid increasing VAT and other taxes.
Broadcaster B92 reported that Prime Minister Mirko Cvetkovic said that the IMF mission is not insisting on a VAT increase, as some media organisations in Belgrade had alleged.
"The policy of the government is not to raise taxes for the economy and citizens," the broadcaster quoted Cvetkovic as saying.
Dinkic told Blic that significant revenue inflows have been recorded for July and August and that overall income is only down by 0.8 per cent on this time last year.
All ministries should be looking to cut expenditure cuts, he stressed, particularly those responsible for healthcare, education and the police.
The IMF delegation is scheduled to meet Education Minister Zarko Obradovic today to discuss the rationalisation of employee numbers in his sector.
Obradovic told B92 that he wants to solve the problem of excess workers without having to make employees redundant.