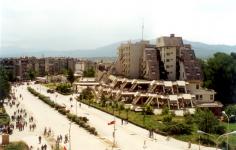 SERBIA
Around 100 Serb pilgrims and former residents of the Kosovo town of Gjakova will be visiting the country on Thursday and Friday to celebrate an Orthodox festival, Kosovo police spokesperson Arber Beka said.
The group's visit marks the festival of the Dormition of the Holy Mother of God.
"This request was approved by the government of Kosovo […] through EULEX's office", Beka said, referring to the EU rule of law mission, EULEX.
He added that the Serb pilgrims "will be escorted by the Kosovo police and no one else, during visits to religious institutions in Gjakova and Prizren".
Deputy Prime Minister Hajdredin Kuci also verified their visit.
"The request came to us stating that many pilgrims wish to take part in religious ceremonies in Kosovo and we don't have any more information about what else they will be doing," said Kuci.
The secretary of the Serbian Ministry for Kosovo, Oliver Ivanovic, said that the pilgrims will also be visiting to ascertain their chances of moving back to Kosovo.
"Apart from coming for religious festivities, at the same time it is expected that they will also visit their homes to see under what circumstances they could return to live where they were born and raised," Ivanovic told Serbian reporters.