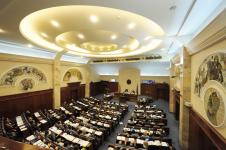 MACEDONIA
Lustration procedures, focusing on past security service ties, begin for all public officials in Macedonia on Tuesday, with prominent public office holders the first under the spotlight.
Public office holders have until the end of September to submit a statement to the parliamentary Commission for the Verification of Facts, affirming that they did not collaborate with the secret services of the former Yugoslavia and early Macedonian state, in the years 1944-2008.
Some 250 politicians, including President Georgi Ivanov, Prime Minister Nikola Gruevski, government officials and mayors, will be the first to submit their statements.
The authenticity of the statements will be verified by the parliamentary commission. Those found to have been informants will be prevented from holding senior state positions.
The Law on Lustration was adopted last year, but the commission only kicked off its work two months ago. It is envisaged that the lustration process will take ten years to implement.
Macedonia is following in the steps of many former communist and socialist states, which have already enacted similar laws in order to address past injustices stemming from politically motivated judicial proceedings.
The country's opposition has warned that the law must not be misused to settle political scores.