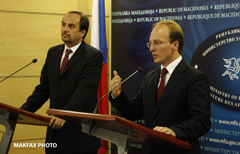 MACEDONIA
Macedonia is determined to pursue reforms not only for its relationship with Brussels and EU membership aspirations but also for its own society, senior Macedonian official said.
Foreign Minister Antonio Milososki made the remarks at a press conference in Skopje after meeting his Czech counterpart Jan Kohout. The interlocutors discussed regional events, Kosovo, and the name dispute with Greece.
Macedonian foreign minister stressed that Macedonia and Greece have good relations, and they need to boost cooperation in fields spanning economy, trade and education.
Asked by a reporter to comment the delay in establishing diplomatic ties between Macedonia and Kosovo, Milososki said Macedonia's recognition of Kosovo's independence is irreversible process and that such a decision has contributed to the development of events in the region.
Czech Foreign Minister Kohout made it clear that Balkans' integration into the EU and NATO is the Czech Republic's strategic decision and the country will continue to work on this goal.