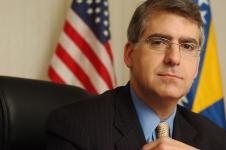 BiH
The current "very negative" political situation and stagnation of key reforms threaten to delay the closure of the Office of the High Representative, OHR, and move Bosnia away from EU and NATO membership, a senior US diplomat said.
"What is especially frustrating is that we believe that, for most of the issues that they are facing, local politicians have solutions. But the thing is that they simply don't want to use […] these solutions," Bosnian media quoted Deputy High Representative Raffi Gregorian as saying.
The US diplomat said the main problem was the mutual mistrust and maximalist demands of local leaders. Due to the prolonged crisis caused by such attitudes, the country is facing a very serious situation and its people are becoming anxious, he said. Gregorian added that the situation has even worsened following the joint visit by US Vice President Joseph Biden and EU foreign policy chief Javier Solana in May.
Gregorian stressed that all key remaining conditions for the OHR's closure – above all the resolution of the distribution of state properties among the country's different administrative layers – remain blocked.
The "transition of the OHR into the Office of the EU Special Representative will be delayed," he added.
The OHR was supposed to be closed down by 2007, but its mandate was extended due to the worsening situation in the country.
Representatives of the top international countries charged with implementing Bosnia's peace process – gathered in the Peace Implementation Council, PIC – met at the end of June to discuss the OHR closure. The overall political and socio-economic stagnation in Bosnia forced them to again postpone their decision until the next PIC meeting, scheduled for late November.
Western diplomats said that, unless a decision on the OHR closure is made by the end of this year, the institution may remain in the country for at least another year, as an escalation of political tensions can be expected when Bosnia holds national elections in 2010.
Gregorian said that the continued presence of the OHR means that Bosnia is drifting further and further away from EU and NATO membership. EU officials have repeatedly warned that Bosnia cannot make progress towards EU integration as long as it is effectively governed by an international organisation, such as the OHR.