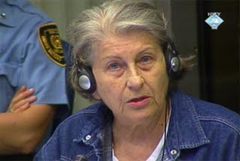 BiH
Muslim and Croatian victims of Bosnia's war voiced outrage on Tuesday at the UN war crimes court's decision to grant early release to a Bosnian Serb ex-president Blijana Plavsic.
"It might be in line with international law, but it has nothing to do with justice," said Murat Tahirovic, head of an association of Muslim and Croat war camp prisoners.
"How can we explain this to children whose parents had been killed during the war," Tahirovic asked.
Munira Subasic, head of an association of survivors of the 1995 Srebrenica massacre, came forward with similar reaction: "How is it possible that Plavsic has the right to freedom and I do not have the right to find and bury bones of my son 14 years after he had been brutally killed?"