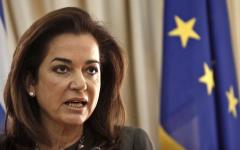 GREECE
Greece is unconvinced that Macedonia will receive a date for the start of its EU accession talks in this autumn's European Commission, EC, progress report, Greek Foreign Minister Dora Bakoyiannis said.
Macedonia hopes a date for the start of EU integration talks will be included in the report, scheduled for issuance next month, as a reward for its reform efforts. However, some local observers speculate that Greece would not like to see this happen without the resolution of the countries' long-standing name dispute.
"I believe in the success of the name negotiations and I agree that this issue must be solved. However, I am not certain that [EU enlargement commissioner] Olli Rehn will recommend a date for the start of the accession talks," Bakoyiannis told Serbian daily Vecernje Novosti.
Last year, Athens blocked Skopje's NATO entry over the row and threatened to impose a second veto on Macedonia's EU accession bid. Greece argues that Skopje's official name, Republic of Macedonia, indicates that Skopje is making territorial claims on its northern province of Macedonia.
UN-sponsored negotiations on the issue are currently in unannounced hiatus, due to the snap national election in Greece.
Local observers speculate that Greece intends to prevent Macedonia being given a date for the start of accession talks in order to avoid having to openly apply a second veto.
Instead, they claim that Athens is seeking an EC recommendation of EU-Macedonian talks, with the date for the same established in the wake of the resolution of the naming dispute.
Macedonia was granted EU candidate country status in 2005. However, the EC has refrained from recommending the start of EU accession talks in subsequent annual reports, citing insufficient reforms on Macedonia's part.