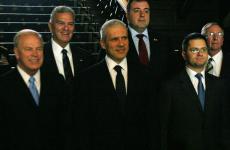 SERBIA
Leading a delegation to the UN General Assembly, Serbian President Boris Tadic says Belgrade is seeking closer ties with the US.
AT the start of its trip, the Serbian delegation met representatives of the Serbian diaspora, Senator George Voinovich, Ohio governor Ted Strickland and Ohio National Guard Commander Gregory White, in Cleveland.
"We are leading a policy of peace and we are defending Kosovo with diplomatic and political means. Today Serbia is a democratic country wanting to become a EU member," Tadic was quoted as saying by daily Blic, adding: "Serbia wants to be a strong partner of the US."
He called on Serbia's diaspora to transmit this message to all Serbs living in the US, since there is "no alternative to these policies".
The president will meet US counterpart Barack Obama on Wednesday at a reception in New York. One of the Serbian delegation's priorities is to improve bilateral relations with the US, the newspaper reports, citing members of Tadic's cabinet.
The delegation is scheduled to hold several dozen meetings with other state representations, in which bilateral relations, economic coooperation and efforts to safeguard the sovereignty and territorial integrity of Serbia will be discussed.
Tadic assured his audience at the Cleveland meeting that Serbia had made significant economic progress over the last couple years, despite the global downturn.
"Today we have major investors coming from the US. That is something I respect greatly," he said, expressing his hope that more US companies will come to Serbia.