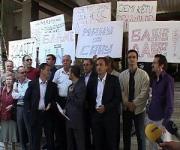 MACEDONIA
In an emergency session on Wednesday the editorial committee of Macedonia's Academy of Sciences and Arts's, MANU, that prepared the country's first encyclopaedia decided to revise the disputed parts of the book that refer to the history and present life of the large Albanian community living in Macedonia.
After receiving heavy flak from the country's Albanians, as well as objections from neighboring Kosovo and Albania who all disputed the book's historical analysis and accused MANU of stirring ethnic intolerance, the academy head Georgi Stardelov announced that while partly rewritten, the edition as a whole will not be withdrawn.
The book promoted last week as one of the highest academic achievements of the country in the presence of Prime Minister Nikola Gruevski, was quick to cause political outrage that quickly spilled over into the neighbouring countries.
On Monday, Albanian NGOs and political parties in the country demanded that MANU should immediately withdraw its newly published Macedonian Encyclopaedia and apologise to Albanians for referring to them as "settlers" in the book.
The demonstrators said it is not true that Albanians were settlers who arrived in western Macedonia in the 16th century.
The protesters also objected to the way that the leader of the country's 2001 ethnic Albanian insurgency, Ali Ahmeti, is described as a "war crimes suspect". Ahmeti now leads the junior coalition partner in the government, the Democratic Union for Integration, DUI.
In the meantime the US and UK embassies also reacted. They urged MANU to change the part in which the book says theat their military personel took part in training of the Albanian insurgents in 2001.