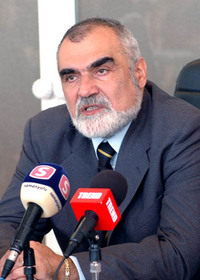 The Romanian Embassy hopes to continue Turkey's fruitful activity as the NATO coordinator to Azerbaijan, the Romanian Ambassador to Azerbaijan, Nicolae Ureke said at the seminar in the NATO school on Sept. 23.
"Turkey's fruitful activity is an example for us, but we hope to successfully continue this activity," he said.
On Jan. 1, 2009, Romania replaced Turkey as the NATO coordinator to Azerbaijan.
Ureke said Romania's task is to expand understanding of importance of the North Atlantic Alliance for the Azerbaijani people. The debates in the NATO school should help to solve the problem, such as poverty, terrorism, change of climate and economic crisis.