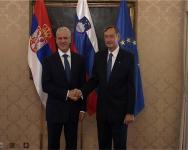 The presidents of Serbia and Slovenia, Boris Tadic and Danilo Turk, have underlined their countries' warm relations and the importance of economic and cultural cooperation.
Addressing Slovenian reporters after his parlay with Turk, Tadic said he expected Slovenia to continue supporting Serbia's EU integration process, which is Belgrade's main political goal.
Tadic started a two-day official visit to Serbia on Tuesday, in which bilateral ties and economic cooperation in the fields of trade, services, investments and tourism will be discussed.
Tadic and Turk reportedly initially held talks behind closed doors before being joined by their delegations.
The two presidents emphasised the importance of economic cooperation and of forays into larger markets.
Beta reports that the countries' bilateral trade was important for the Serbian economy in 2008, with Slovenia the sixth largest market for Serbian exports. However, bilateral trade dropped by 38.5 per cent in the first seven months of 2009.
According to Slovenian news agency STA, the presidents also talked about issues related to property remaining from the time of the former Yugoslavia and the open question of former Yugoslav guarantees for foreign savings.
Another member of the Serbian delegation, Labour and Social Policy Minister Rasim Ljajic, signed an agreement on social insurance with his Slovenian counterpart Ivan Svetlik.
The deal includes provisions on pension, invalid, unempoyment, work-related illness and accident, and health insurance rights.
Tadic is scheduled to address a Serbian-Slovenian business conference; meet with officials of the Serbian community in Slovenia; and visit the Serbian Orthodox Church in Ljubljana.