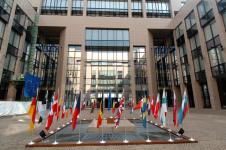 Serbia's attempts to block Kosovo's participation in regional initiatives could paralyse regional policies, according to a leaked European Commission, EC, report.
This according to a report on Balkan countries involved in the EU enlargement process, to be issued in Brussels on October 14.
The newspaper says it has seen sections of the draft report. Regarding Kosovo, it says that stability is being maintained but is fragile.
The EC study purportedly adds that political pressure on the media and threats against journalists are of serious concern.
In the document, the EC stresses the importance of regional cooperation between Balkan states. It asks Serbia to play a more constructive role concerning Kosovo's participation in regional initiatives, Koha Ditore reports. It gives as an example the impact of the division over Kosovo's status on the implementation of the Central European Free Trade Agreement, CEFTA.
The EC progress report will approve a study into Kosovo's involvement in the EU visa-free scheme, which will help determine the path Kosovo will take in moving towards EU integration. The daily claims that the EC has carefully chosen its statements on the visa liberalisation issue, in relation to Kosovo.
The challenge for Kosovo, as for other Balkan countries, remains corruption, particularly in the field of tenders and privatisations, the report allegedly says.
The EC document calls on Kosovo's government to provide ongoing support to the EU rule of law mission, EULEX, following an incident in which EULEX property was damaged in August.
The EC also reportedly call on Kosovo Serbs to take part in the upcoming Kosovo local elections and to play a part in Kosovo's institutions.