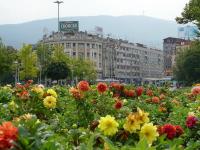 The upcoming change in government in Greece may act to break the current impasse in the Athens-Skopje name talks, Macedonian observers predict.
Outgoing Greek Prime Minister Costas Karamanlis has resigned as New Democracy leader after his party suffered an outright defeat in Sunday's general election to the rival Pan-Hellenic Socialist Movement ,PASOK, led by Iorgos Papandreou.
"Papandreou has a milder style, has the stature of a modern European politician," a leading opposition Socialist member, former Macedonian deputy prime minister Radmila Sekerinska, told Macedonia's A1 TV on Sunday evening.
"I am convinced that this is a chance for Macedonia […] We await hard negotiations in which Papandreou will not make any milder stands. However, I am convinced that he will be more interested than Caramanlis in [ending] the problem," Sekerinska said.
Former Macedonian foreign minister Denko Malevski agrees, saying that, while Greece will not change its positions, the negotiations will be "technically easier", with Papandreou as Greek prime minister A1 TV reports.
With 40 per cent of votes counted on Sunday evening, PASOK was storming to victory, ending its five years in opposition. The preliminary results show that PASOK will enjoy a solid majority, with 159 seats in the 300-member parliament. New Democracy is expected to secure 96 seats.
"No matter who wins, we will seek constructive ways to reach a solution that will allow Macedonia to continue its Euro-Atlantic integration," Macedonian Prime Minister Nikola Gruevski told local media on Sunday, before the results of the Greek polls came in.
"We have our red lines, as they do too," Gruevski pointed out.
During the election campaign, Papanderou reiterated the official Greek stance: that Athens will seek agreement on a compound name for Macedonia which includes a geographic qualifier to distinguish it from the Greek province of the same name.
In 2008, Athens blocked Skopje's NATO accession, arguing that its neighbour's official name, Republic of Macedonia, implies that Macedonia is making territorial claims on its northern province.
PASOK's high representative, Andreas Loverdos, told Greek news portal Newstime.gr in early September that "When PASOK comes to power we will solve the issue. We will be sending a message of reconciliation, not of confrontation."
Ongoing UN-sponsored talks have failed to bring a breakthrough. Latest reports on a potential compromise say that UN mediator Matthew Nimetz has proposed a compound name, featuring variations on the appelation Northern Macedonia.
Some local observers argue that both Athens and Skopje have been using the dispute to score political points at home.