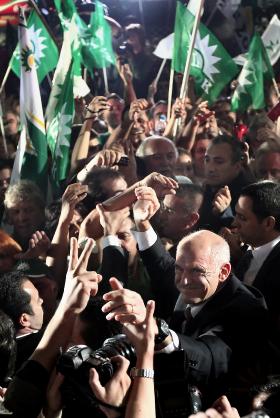 Optimism is on the rise around the Aegean Sea after Greece's main opposition party, PASOK, takes victory in elections, according to experts and observers. The man most likely to become prime minister, George Papandreou, is known for his friendly stance toward Turkey and a historic rapprochement he worked on with former Turkish Foreign Minister İsmail Cem
The landslide victory of the Pan-Hellenic Socialist Movement, or PASOK, in Greece's weekend elections is good cause for optimism regarding the future of Turkish-Greek relations, according to experts.
The hope stems specifically from the legacy of the 1990s when Socialist leader George Papandreou, who is now likely to become prime minister, and Turkey's late foreign minister İsmail Cem sowed the seeds of rapprochement.
"Papandreou is very interested in bilateral relations between Turkey and Greece. He already declared in the election campaign that relations with Turkey will be a priority," said one Greek diplomat, speaking on the condition of anonymity.
According to election results, PASOK gained a solid majority, ending the five-year tenure of the conservative government led by Costas Karamanlis. PASOK will secure 160 seats in the 300-member Greek parliament while the conservative New Democracy will hold just 91 seats. Seats were secured by two members of the Turkish minority in Western Thrace, Ahmet Hacıosman and Çetin Mandacı, who are both affiliated with PASOK.
Turkish diplomats contacted by the Hürriyet Daily News & Economic Review declined to comment, saying they were still evaluating the results. In Brussels, Turkish Foreign Minister Ahmet Davutoğlu called Turkish-Greek relations "excellent" compared to the situation 10 to 15 years ago. He said there were "of course difficulties" but problems were now being dealt with constructively "without escalating tensions."
For many, even the name of Papandreou provides reason to be optimistic for future ties.
"We do know him from the past. He had a very close relationship with İsmail Cem," said the unnamed Greek diplomat. He said, however, it was too early to make judgment, adding that there was a need to wait and see the government program that Papandreou will soon announce.
"Papandreou is very well-known for his efforts to improve relations with Turkey. I think he will give a new start to relations with Turkey through open dialogue," said Greek journalist Angeliki Spanou.
She said a new government led by Papandreou would back Turkey's negotiations with the European Union but urge Ankara to fulfill its obligations. "I think Papandreou will make coalitions with other governments of EU member states. This is positive, but also puts pressure on Turkey to take some steps," she said.
Sema Sezer, an expert on Turkish-Greek relations, said the December summit when EU leaders would review if Turkey was fulfilling its obligations stemming from the Ankara protocol would be the "first test" for Papandreou.
"That will give us a hint about the future policy to be pursued by the new government," Sezer said. "The previous Karamanlis administration supported Turkey's EU entry talks but conditionally. This means Greece still reserves the right to veto. But I don't think Papandreou will play the veto card because he has just ascended to power and he is one of the architects of the Turkish-Greek rapprochement," said Sezer.
Future policies
Papandreou is expected to visit Greek Cyprus before the December summit of the EU leaders, which could be interpreted as encouragement for the negotiations on the island to continue.
Turkish Foreign Minister Davutoğlu said, "We'll continue to press Greece for a settlement of the Cyprus dispute," and accused Greek Cypriots of not being constructive in the U.N.-led talks for reunification.
Sezer said she didn't expect Greece to pressure the Greek Cypriots as the national policies of Greece and Greek Cyprus were the same, but rather she expected Greece to pressure Turkey via the EU.
"The two sides are in an unequal position. The weaker party here is Turkey, which is negotiating to become a full member. I expect with Papandreou, the EU will press Ankara for further concessions on Cyprus, the Aegean problems, the opening of Halki seminary and the Greek Orthodox Patriarch beginning from mid-2010," she said.