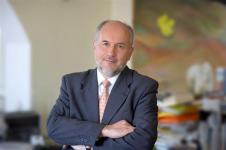 Western patience with Bosnia's bickering local leaders is running out, the country's top international envoy, High Representative Valentin Inzko, reportedly said Tuesday.
"We will no longer tolerate blockades and a lack of willingness to reform on the part of the Bosnians, Croats and Serbs," local media outlets quoted Inzko as saying in an interview with Germany's Spiegel magazine.
Inzko said that local, EU and US leaders will reconvene on October 20, for high-level political negotiations, which started last Friday. The talks are aimed at breaking Bosnia's political deadlock, advancing constitutional reforms and at promoting the fulfilment of remaining conditions for the closure of the Office of the High Representative, OHR.
Asked whether the OHR will impose sanctions against Bosnian Serb leader Milorad Dodik, who has been increasingly challenging international authority in Bosnia, Inzko said that that will be decided upon "later".
"However, the international community will not let itself be misled any longer," Inzko said, adding that he welcomed the "constructive" role that neighbouring countries, including Serbia, have been playing in protecting "the sovereignty of Bosnia".
Inzko's comments came as Dodik issued another challenge.
"The international community has abandoned the Dayton accord and entered into [a phase of] forceful change," Dodik said in interview published on Monday in Belgrade's Danas newspaper.
Dodik's statement referred to the political negotiations that started last Friday. He said that Republika Srpska can accept only minor constitutional changes and will not allow deeper constitutional reforms which, according to Dodik, the international community is now trying to impose as a new condition for the country's entry into the EU.
"If they want to force us to allow the caving in of [Republika] Srpska, for some completely unclear perspective of EU membership, they should know that we will not allow that," Dodik said. He alleged that the international community "constantly works on the dissolution of Bosnia and Herzegovina, its entities and their institutions".
"Bosnia and Herzegovina has external but not internal legitimacy […] If they continue with this pressure, Bosnia and Herzegovina will fall apart because its institutions will simply not be able to carry such a weight," he said, referring to the international community.