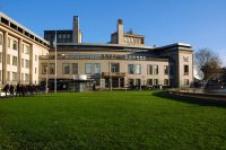 The Appelate Chamber of the Hague Tribunal has postponed the beginning of Radovan Karadzic's trial by seven days to allow him to study the revised indictment.
In the same decision, the Chamber refused Karadzic's request to have an additional ten months to prepare his defence.
The former president of Republika Srpska is charged with crimes and genocide committed in Bosnia and Herzegovina from 1992 to 1995. He was arrested in Serbia on July 21, 2008. Ten days later he made his first appearance before the International Criminal Tribunal for the former Yugoslavia, ICTY.
At a status conference, held on October 6, the decision was made that Karadzic's trial would commence on October 21, when the Prosecution was due to present its introductory arguments.
The Chamber said the Prosecution would have 300 hours to present its case, ordering it to provide the Court and Karadzic with "the revised indictment", containing all counts, by October 19.
"The Trial Chamber was obliged to make sure that Karadzic would have sufficient time to read the revised indictment prior to the beginning of the trial," the Appellate Chamber's decision reads, postponing the beginning of the trial by a week.
The Appellate Chamber rejected Karadzic's request to have an extra ten months to prepare his defence. Karadzic filed the postponement motion in September, citing, among other things, the scope of the trial and the fact that he is defending himself.
"Karadzic failed to present any convincing reasons showing that the Trial Chamber's estimate of the time needed for trial preparations was wrong. The mere mentioning of the number of counts contained in the indictment and reminding us of the scope of the documents does not imply that the Chamber's estimation was wrong," the decision reads.
The Appellate Chamber found that the Trial Chamber's conclusion that Karadzic is surrounded by a relatively large group of paid and unpaid advisors, who "provide him with considerable support", was justified, despite the fact that Karadzic had said that these advisors had not been able to work with him for the whole time he has spent in custody.
"Their limitations are connected to Karadzic's choice to defend himself," the Appellate Chamber argued.
Through this decision, the Chamber dismissed, as "unconvincing", the indictee's allegations that the Trial Chamber did not take into consideration the complexity of the case, the number of counts in the indictment and the gravity of the crime when it made its decision about the beginning of the trial.
The ICTY has found that any immunity agreement Karadzic may have made is not binding on the Tribunal, allowing his trial to go ahead as planned.