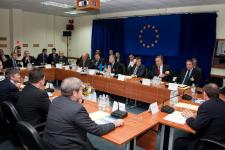 Bosnian Serb leaders have rebuffed a package of reforms and incentives proposed by the US and EU to end Bosnia's political crisis.
The package was presented at emergency negotiations held at Butmir military camp near Sarajevo last week. A group of EU and US technical experts has remained in the country and is holding meetings with key local leaders, in an attempt to pave the way for the successful continuation of the negotiations on October 20.
On Tuesday afternoon, US and EU representatives met the prime minister of Republika Srpska, Milorad Dodik, who heads the Serb-dominated entity's strongest party, the Alliance of Independent Social Democrats, SNSD. Republika Srpska Assembly Speaker Igor Radojicic was also present.
After the meeting, Dodik told journalists that a number of proposals, floated by the EU and US officials, are unacceptable.
Dodik agreed to the transformation of Bosnia's tripartite presidency into an institution that would have one president and two vice presidents, with each sharing the top job in rotation. However, he rejected the possibility of major constitutional changes and the strengthening of the role of the Bosnian Council of Ministers.
Dodik even stiffened his negotiating position: proposing that entity constitutions be adjusted to allow Republika Srpska and the Croat-Bosniak (Bosnian Muslim) Federation to organise their own referendums.
The Office of the High Representative, OHR, previously declared that entities do not have the right to hold referendums, after Dodik threatened to call for an entity plebiscite on a Republika Srpska declaration of independence.
In his Wednesday column, the chief editor of influential Sarajevo daily Dnevni Avaz, Sead Numanovic, said that Dodik's referendum demand represents another step forward in the Bosnian Serb leader's policy of secession from Bosnia and Herzegovina.
The importance of the emergency negotiations, which started on October 9, is such that the event has already been dubbed Dayton 2.
During the first round of talks, EU and US officials offered a package which, according to Western sources, requires a set of constitutional reforms and the implementation of remaining conditions for the closure of the OHR. In return, it reportedly offers Bosnia inclusion in the EU visa-free regime, the status of an EU candidate country, and the speeding of its NATO integration process.
Some analysts and Western officials believe that the package has some serious flaws and that its future is uncertain.