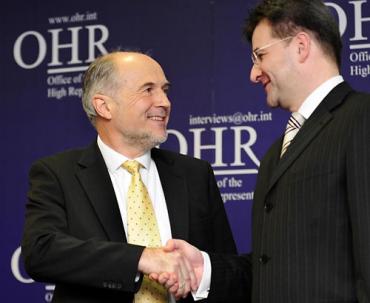 International High Representative to Bosnia-Herzegovina Valentin Inzko thinks it is time for further steps when it comes to the Dayton Accords.
"Dayton is definitely the best Constitution that could have been written in an airport in the space of three weeks, because, above all, it put an end to the war and suffering of the population.
However it was 14 years ago. It is now time for further steps. I hope that Bosnian politicians are aware of that, too," Inzko told Vienna daily Presse.
"We are working on transforming the Office of the High Representative into the office of an EU representative. Our goal is to progress from Dayton towards Brussels and for Dayton logic to be replaced by EU logic," he said.
This, he said, would be accompanied by a withdrawal of international armed forces.
"It would be good if the withdrawal started three to six months after the closure of the OHR," he recommended.
Inzko said that ordinary people wanted the presence of EUFOR as a guarantee for peace and a better political climate.
He stressed that the security level in Bosnia had been stable for years now and that there was no danger of a new war breaking out.
Asked what improvements and problems there had been in the country in recent years, Inzko said that Bosnia-Herzegovina had been in the grip of a political crisis which had heightened in recent weeks.
"That's why the negotiations about a new Constitution are so important. Compared to 1996, things are much better today. Back then there were de facto three armies here, and nobody could have imagined us having a joint Ministry of Defense. However, political progress has been too slow," the high representative said.
"Not enough is happening for ordinary people. Bosnia is very rich in natural and human capital. It hurts me that this wealth hasn't been put to good use," the Austrian diplomat lamented.
Concerning the trial of former Republic of Srpska President Radovan Karadžić at the Hague Tribunal, Inzko said that it would remind many people of the dark days of 1992-1995, that old wounds would be re-opened, but that it would at the same time open a process of reconciliation and healing.
"Reconciliation can only happen on the basis of truth and the truth will be sought before the Hague Tribunal," he concluded.