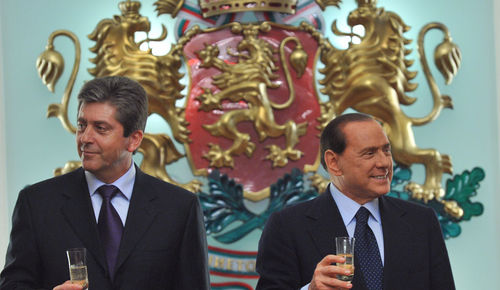 Bulgarian Prime Minister Boiko Borissov became a bearer of the Cavalier of the Grand Cross for having achieved "great contributions to the Italian Republic", a Bulgarian Government media statement said on October 15 2009.
The award was given by Borissov's Italian counterpart Silvio Berlusconi at a commemoration ceremony in honour of the 130th anniversary of Bulgarian-Italian business and diplomatic relations, held at the residence of the Italian ambassador and attended by more than 120 prominent Italian business people who have invested in the country.
To mark the milestone, a postal stamp was validated which will celebrate both republics and their friendship.
"Let our friendship with Borissov become your friendship as well and I hope that in the future you will carry out more projects in this country," Berlusconi told Italian business people at the ceremony.
Berlusconi in turn was given Bulgaria's highest honour, the Stara Planina Order, conferred on him by President Georgi Purvanov. The Italian leader received the medal commemorating his "contribution in strengthening the bilateral relations between both countries".
"Berlusconi has received the medal for his tireless efforts in assisting Bulgaria to obtain its accession in the European Union community. For his support of our country and because he is a true leader both in global and European scale," Purvanov said.
Apart from swapping medals, commemorating diplomatic relations and launching post stamps, however, Berlusconi also invited Bulgaria to join a project for an ambitious gas pipeline spanning from Greece to Italy, Bulgarian-language daily Monitor reported on October 16 2009.
Furthermore, he vowed that he continues to support Bulgaria's request to receive additional financial compensation from Brussels for the early decommissioning of units at Bulgaria's Kozloduy nuclear power station. The units were shut down as part of an agreement during Bulgaria's EU accession negotiations.
"The South Stream project should get the go-ahead, and I believe we can do more together," said Berlusconi, quoted by Bulgarian-language mass-circulation daily Trud on October 16 2009.
Italy has emerged as one of Bulgaria's leading trade partners in the past 20 years, and with the potential of Italian investments getting even a stronger foothold in the country.
Berlusconi was the first prime minister to visit Bulgaria since Borissov became head of government in July 2009, and left Sofia with a "rich selection of Bulgarian wine and a replica of the Panagyurishte treasure" as official gifts.