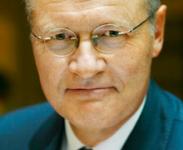 The settlement of the Athens-Skopje name row is not an official precondition for Macedonia's EU accession talks but will create a better climate for the same, ambassadors say.
This according to the Swedish and EU ambassadors to Macedonia, Lars Freden and Erwan Fouere. Sweden currently holds the EU presidency.
"This is a golden opportunity for boosting efforts towards settling the name row. […] Now [Macedonia] should focus solely on name talks, not those related to the [European Commission, EC] benchmarks," said Freden.
Fouere cited a Wednesday statement by EU enlargement commissioner Olli Rehn, who said that this week's positive EC report on Macedonia should prove a "strong incentive" for the country's leaders to seriously engage in the name negotiations and to achieve results therein.
Both ambassadors reminded that the EC recommendation that Macedonia be allowed to start its EU accession talks is not binding. They underlined that the final decision on a start date for the talks will require a consensus decision by the EU Council, which includes Greece.
Last year, Athens blocked Skopje's NATO membership bid, arguing that its neighbour must first change its formal name, Republic of Macedonia, which clashes with that of a northern Greek province. Athens argues that this name indicates that Skopje is making claims on Greek territory.
Macedonian observers fear that Greece could use its influence in the EU to block their country's entry into the bloc.
Macedonian officials have, so far, sufficed by reiterating their country's well-known stance on this issue.
"Macedonia will continue to be active and constructive in seeking a mutually acceptable solution with Greece," Macedonia's prime minister, Nikola Gruevski said on Wednesday, after receiving the EC report.
Greek media speculate that their country's new premier, George Papandreou, will soon propose a fresh initiative to resolve the 18 year row.