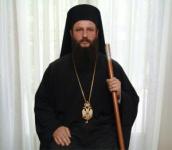 A  renegade former Macdedonian Orthodox Church, MPC, bishop, Jovan Vraniskovski, has been sentenced to two and a half years in jail for embezzlement by a Macedonian court.
A court in the town of Veles found Vraniskowski guilty of embezzling 320,000 euros while in charge of three Macedonian dioceses. He was also charged with the unauthorised purchase of luxury cars and icons using MPC, funds.
Vraniskovski, who is recognised as a bishop by the Serbian Orthodox Church, SPC, was sentenced in absentia. Local media speculate that he may be somewhere in neighbouring Serbia or Greece.
He has had two previous jail sentences overturned by Macedonia's higher appellate court.
Vraniskovski was previously accused by Macedonia of encouraging religious and racial hatred by forming a parallel Orthodox church in Macedonia, later dubbed the Ohrid Archdiocese.
The MPC saw this as an attempt by the SPC to undermine it, while the SPC complained that the MPC was persecuting one of its priests.
The two churches are caught up in a long-standing conflict over the right of the MPC to be accepted as of equal rank with others in the Orthodox world.
The SPC, which has close ties with other Orthodox churches, blocked the recognition of the MPC by other Orthodox churches immediately after Macedonia declared its independence from the former Yugoslavia in the early 1990s.
The SPC argues that the MPC should only be allowed autonomy under its overall authority.
The sentence comes at a time when relations between the two churches appear to be warming, with the exchange of positive signals. Bilateral negotiations, which were stalled for several years, are expected to resume shortly.
This month, the MPC said it would soon add the term 'Ohrid Archdiocese' to its name.