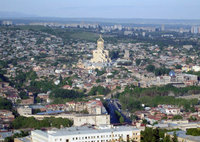 Today, on Oct. 19, in the Georgian-Ossetian conflict zone, the Ergenti village will host the next meeting of the working group comprising representatives of the South Ossetia and Georgia under the OSCE mediation within the Geneva format. This meeting is dedicated to prevent tension in the region.
Georgia will be represented by the head of information-analytical department of the Georgian Interior Ministry, Shota Utiashvili, and Ossetia – by representative of the President of South Ossetia on post-conflict settlement, Boris Chochiyev.
The meeting will be attended by representatives of the EU, OSCE and the Russian military.
The parties will discuss operational issues.