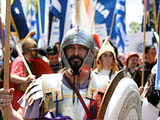 Standing at the door of the EU and NATO clubs, Macedonia's reception largely depends on one thing: compromise over the long-running name dispute with neighboring Greece. Meanwhile, regional stability hangs in the balance, Anes Alic writes for ISN Security Watch.
The 14 October report by the European Commission recommended opening EU membership negotiations with Macedonia; but despite the cheerful atmosphere on the streets of Skopje and official celebrations, there is a catch, though not an official one: The report urged Skopje to work harder to find a resolution for its ongoing name dispute with neighboring EU member, Greece.
The EC report said Macedonia had achieved "convincing progress" in police reform, corruption and human rights. However, European Enlargement Commission Olli Rehn said in a later statement, "I trust that the government in Skopje will take this as a very strong encouragement to finally settle the name issue."
Macedonia gained independence from the former Yugoslavia in 1991, joining the UN in 1993 under the temporary name of Former Yugoslav Republic of Macedonia (FYROM), as Greece then demanded. However, government institutions, citizens and much of the rest of the world continued to refer to the country as the Republic of Macedonia, its constitutional name. That fact has outraged Greek officials, who say that its neighbor's name implies territorial claims to the northern Greek province of Macedonia.
There are nearly a dozen cities, regions and mountains also bearing the name 'Macedonia' – six of which are in the US, with others in Australia, Canada and Brazil.
Enter Greece
Greece has blocked Macedonia's NATO accession over the 18-year-old dispute, and now Macedonia's EU accession is also under threat, despite a recent change of leadership in Greece, which some analysts had hoped would prompt a change of heart in Athens.
EU-Macedonia negotiations could start as early as in December, but all 27 EU member states, including Greece, would have to approve this move.
Speaking to Greek media on 13 October, Greek Deputy Foreign Minister Dimitris Droutsas reportedly said that "the European path of Macedonia passes through Greece."
On 14 October, the Macedonian daily Vreme reported that Athens would not accept the EC recommendation to begin membership talks with Macedonia, which has been an EU candidate member since 2005.
According to Vreme, unnamed Greek sources told the daily that the EC should pay special attention to the name dispute, otherwise Greece would veto the start of accession negotiations.
"Our government will make everything possible to solve the name dispute through finding a name acceptable for both countries. It is time [for the] FYROM government to show […] constructive intentions," newly elected Greek Prime Minister George Papandreou was quoted as saying on 16 October. Papandreou was sworn in on 6 October, after a victory in 4 October parliamentary elections.
In response to the EC report and Rehn's comments about the name dispute, Macedonian Prime Minister Nikola Gruevski said, "We are aware of the importance of this report and […] will actively and constructively negotiate and seek a solution with Greece under the United Nations auspices."
The international community has ruled out the possibility of the EU assuming any role is helping to resolve the name dispute. According to statements by EU officials, the UN will remain the main mediator in Greece-Macedonia name resolution talks, headed by the secretary-general's envoy, Matthew Nimetz.
Nimetz said that negotiations over the dispute should soon begin again, now that Greece's parliamentary elections are over. The resumption of talks comes after the tabling of a number of compromise ideas over the summer, and the UN is hoping to keep up that momentum.
UN mediators have proposed various solutions without much success. Though there have been a few instances of false hope, both sides have reverted to their previous entrenched positions. In 2005, Nimitz proposed using three separate names for the country, depending on the situation.
The proposal suggested that the 'Republic of Macedonia' be used by those countries that had recognized the country under that name, including international institutions and organizations, while Greece should use the formula 'Republic Macedonia – Skopje.' Greece rejected the proposal as unacceptable, while Macedonia had no arguments.
The closest the two sides came to a deal was in 2001, when they discussed the potential use of 'Gorna Macedonia' (Upper Macedonia). But negotiations collapsed when Macedonia became engulfed in an ethnic conflict between security forces and the ethnic Albanian minority.
In late 2008, Macedonia submitted a complaint at the International Court of Justice (ICJ) against Greece for breaching the 1995 UN-brokered Interim Accord on the name row. However, even if the ICJ should rule in Macedonia's favor, the court's decision is not enforceable and will do little to keep Greece from wielding its NATO and EU veto power.
In July, Nimetz sounded optimistic, saying the name dispute could be resolved "within months." Local media speculated that a new deal could be agreed on by attaching a geographical prefix to the name Macedonia for international use. Nothing has so far come of that alleged deal.
Some analysts believe that while Macedonia may not be able to expect a change of heart in Athens now that the opposition socialist party PASOK is in power, the situation is also not expected to worsen. Indeed, many have described PASOK as having a more flexible foreign policy that may stem the rise of nationalism and xenophobia in Greece.
According to Ana Petruseva, Macedonia country director for the Balkan Investigative Reporting Network (BIRN) and managing editor of Balkan Insight, we should not expect any radical changes.
"The new government in Greece has pledged to be constructive, but that does not mean a radical change of position. They may change their game tactics, but I would not expect a drastic shift in their position," she told ISN Security Watch.
According to Petruseva, "The recommendation for accession talks should serve as an incentive for the Macedonian authorities to resolve the name issue or show, by the December EU meeting, the political will to resolve the matter."
"Otherwise," she told ISN Security Watch, "we could be facing another fiasco like the one in Bucharest, as Greece could veto a decision to set a date for negotiations, and in that case the [EC] recommendation won't mean a lot."
Petruseva said it was clear that Macedonia would not be able to join NATO or the EU "without a compromise. Thus, it is crucial that both sides enter constructive talks to find a mutually acceptable solution."
Eternally existential
Macedonia has long had a fragile sense of identity.
Earlier this month, the Macedonian government denied media claims that it was toying with the idea of holding a referendum to ask the public whether it would accept a new country name in return for speedy EU and NATO membership.
Indeed, name dispute aside, a recent survey by the International Republic Institute shows that more than 90 percent of Macedonians continue to support their country's entry into the EU and NATO. But the question remains, are they in fact willing to sacrifice what they consider part and parcel of their identity for membership in these international clubs.
At the same time, polls have shown that a large majority of Greek citizens would block Macedonia's bid to join NATO and the EU under the country's currently disputed name, while a smaller majority would block Macedonia's international cub bids regardless of its name.
From an outsider's perspective, the name dispute should be rendered to the annals of history's most ridiculous and low-priority disputes. That said, more than many other major global issues published in the media, this story earns online news portals an unbelievable amount of traffic – and countless letters to the editor from incensed Greeks and Macedonians who seem unrealistically dedicated to trolling for media injustices on the name issue. And there is also a regional stability aspect to the dispute that cannot be ignored.
And beyond…
The Greek-Macedonian name dispute is also placing EU and NATO stability objectives for the western Balkans at risk, according to the International Crisis Group (ICG).
"The international community has a compelling strategic reason to acknowledge Macedonia's constitutional name as a matter of regional stability, and this can be done in a way that meets Greece's legitimate concerns," according to an ICG report.
The ICG is concerned that "an indefinite delay to NATO and EU integration could undermine what has been achieved in stabilising the country, with consequences that would be particularly harmful not least for Greece itself. The name dispute is more than a bilateral issue between Skopje and Athens. It risks derailing the main strategy of both NATO and the EU for stabilising Macedonia and the region through enlargement and integration. Member states should not allow the organisations' credibility to fall victim to an intractable dispute involving one of their fellow members."
The ICG recommends that other NATO and EU member states "actively encourage Athens to unblock Macedonia's integration into both organizations and to respond positively to Skopje's concessions on the country's name."
It also recommends that Skopje should "publicly state its readiness to accept the latest proposal of the UN mediator that 'Republic of North Macedonia' be the name for all international purposes, and that "Athens should respond by acknowledging the national identity and language of its northern neighbour as 'Macedonian' and accepting Skopje's assurance that use of that adjective does not imply any exclusivity or territorial claim […]."
Source: isn.ethz.ch