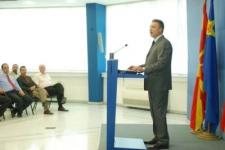 The opposition Social Democrats, SDSM, would back any government compromise in the Athens-Skopje name row that guarantees that the language and nation would remain unchanged and referred to as Macedonian.
"Whatever is acceptable to you will be acceptable to us." SDSM leader Branko Crvenkovski told Prime Minister Nikola Gruevski at a press conference in Skopje. The premier, who heads the ruling VMRO-DPNME party, was not in attendance.
"Everything else depends on Gruevski. The success and the defeat alike," Crvenkovski said.
A European Commission, EC, report on the country, released last week, recommends the start of Macedonia's EU accession talks, but is "just an opportunity, not a job done", Crvenkovski warned.
Macedonia is now in a crucial period for resolving the 18-year name spat with Athens, he said. Although the SDSM sees the holding of a referendum on the name issue as a risky move, it would accept this if the governing coalition insists, Crvenkovski said.
The 2008 VMRO-DPMNE election platform envisaged a public referendum on any agreement the country reaches with Greece that leads to the alteration of its formal name.
Last year, Athens blocked Skopje's NATO accession over the row. Greece insists that Macedonia's formal name, Republic of Macedonia, must be changed as Athens argues it implies that Skopje is maintaining territorial claims on a northern Greek province.
At a press conference in Brussels on Monday, EC President Jose Manuel Barroso reiterated an earlier call for Skopje and Athens to make additional efforts to settle the name dispute, in the spirit of European solidarity.
"We have clearly said how important good neighbourly relations are. The name dispute is part of these relations. [Its settlement] will enhance mutual trust and make our work in Brussels easier," Barroso said.
Local observers say that it would be best for Macedonia to resolve the row, within ongoing UN-mediated talks, before December in order to avoid a likely Greek veto on a date for the start of Skopje's EU accession talks.