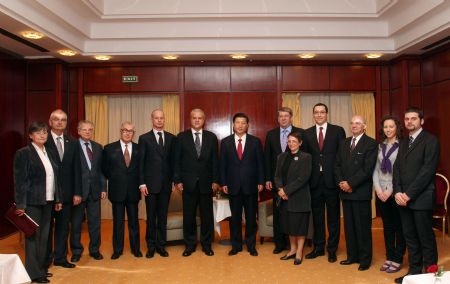 Friendship and cooperation have always been the central theme of China-Romania relations in the past six decades, Chinese Vice President Xi Jinping said in Bucharest on Tuesday.
Addressing a seminar marking the 60th anniversary of bilateral diplomatic ties, Xi said Romania was among the first few countries to set up diplomatic relations with new China and it also devoted great efforts to the restoration of UN membership for the People's Republic of China in 1971.
Over the past 60 years, the peoples of the two countries have always stood side by side, offering firm support to each other in their struggle to defend national sovereignty, independence and territorial integrity, Xi said.
The two countries have also actively carried out multi-level, wide-ranging and all-round cooperation in economic and social areas, he said. Bilateral trade posted a 10-fold increase during 2000-2008, rising to 3.2 billion U.S. dollars from less than 300 million dollars, Xi said.
Cooperation in such areas as education, science & technology, culture, health and tourism has also been fruitful. On the world arena, China and Romania have maintained close cooperation, always ready for timely communication and coordination of their positions on major global and regional issues, he added.
The past 60 years have shown that friendship and cooperation have always been the main theme of Sino-Romania relations, Xi said.
Summing up the key causes for the long-term and smooth development of bilateral relations, Xi said the two countries have always abided by the principles of mutual respect, equality, mutual benefit and non-interference in each other's internal affairs.
The two sides have enjoyed mutual trust and support, always taking care of each other's core interests and concerns, the Chinese vice president said.
Leaders of the two countries always view bilateral relations from a strategic height and long-term perspective, keeping the development of bilateral ties on the right course, he said.
The China-Romania friendship has been deeply rooted in the hearts of the two peoples, forming the solid foundation for bilateral relations, and leaders of younger generations in both countries will carry on the friendship, Xi added.
While striving to maintain steady and fast growth of its own economy, China has also actively participated in international efforts to fight the global financial crisis, putting forward many important proposals and propositions, which has helped push for a revival of the world economy and maintain international financial stability, Xi said.
China will, as always, adhere to the road of peaceful development and continue to develop friendly cooperation with all countries in the world on the basis of the five principles of peaceful coexistence, continue to play its active role in multilateral affairs, and join hands with other nations to combat the global financial crisis, in joint efforts to build a harmonious world with lasting peace and common prosperity, Xi said.
Romania is the last leg of Xi's five-nation European tour, which also includes Belgium, Germany, Bulgaria and Hungary.