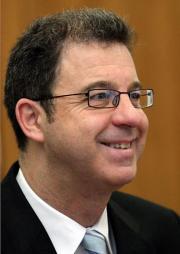 The Hague Tribunal says that the trial of former Republic of Srpska President Radovan Karadžić will begin on October 26 as planned.
It comes after Karadžić notified the court yesterday that he would not be in attendance.
''The prosecution is ready to begin. I hope we'll soon be concentrating on crimes Karadžić and the others have been accused of in order to get to the bottom of the case, instead of dealing with procedural problems," said Chief Prosecutor Serge Brammertz.
"Given that the trial chamber decided that the trial would begin as planned, it will begin on Monday at 09:00 CET, as scheduled," said Hague spokeswoman Nerma Jelačić.
Karadžić said he would not be present at the begining of the trial because the tribunal had not given him enough time to prepare his defense.
Under Hague rules, trials in absentia are not possible, which is all the more pertinent here since Karadžić is defending himself.
Luka Karadžić, the brother of the accused, said that he doubted that the trial would be fair. However, Sonja Biserko of the Helsinki Committee for Human Rights said that there was enough evidence to incriminate Karadžić.