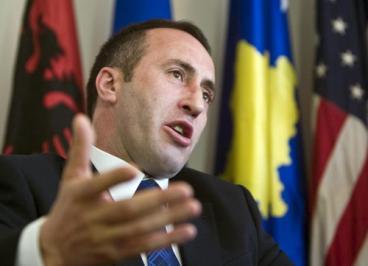 President of the Alliance for the Future of Kosovo Ramush Haradinaj thinks Priština and Belgrade should continue dialogue as there are many unresolved issues.
''We should have a conversation with Belgrade.
We have a lot to talk about and a lot to solve. Gievn that Belgrade is now on its way towards the EU, I believe that it needs to separate its internal affairs from Kosovo and not confuse the EU integration issue with Kosovo," Haradinaj told Voice of America's Serbian correspondent.
Aked what Belgrade and Priština were supposed to discuss, Haradinaj, who gave the interview in Serbian language, said that the topics should cover anything that is part and parcel of everyday life and that does not have anything to do with politics.
In his opinion, UN neutrality towards the status of Kosovo "is slowing down the rate Kosovo wants to go, but it's not stopping it".
"Recognitions of independence are coming and we are slowly making progress. We think that it is very important that Kosovo becomes a member of UN. It is now in the family of independent countries," he said.
Haradinaj added that the Kosovo authorities could do more for the wellbeing of people in the province.
"It is very important that Kosovo doesn't fall into corruption which costs countries in transition a great deal," he pointed out.
The former Kosovo prime minister denied accusations of his involvement in the "yellow house" case—a human organ trade scandal under investigation by the Serbian Prosecutor's Office.
"My name hasn't been mentioned in connection to the case. If someone knows more about it I would like to know and read about it. It's a strange and distant thing to me," Haradinaj said.
Asked if he expected further discussion about the "yellow house" case, he said: "I don't know and I don't have a clue about it".
He also dismissed the likelihood that Hague Prosecution would press on with its appeal against his acquittal on charges of war crimes.
Haradinaj added that the defense before the Hague tribunal had cost him "a lot," without quoting any exact figures.