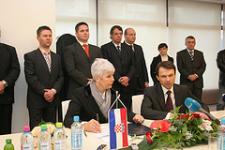 Croatian Prime Minister Jadranka Kosor said on Saturday that she was trying to find a replacement for former Deputy Prime Minister and Economy Minister Damir Polancec as soon as possible, but refused to disclose any names.
"I am trying to solve that as soon as possible. Consultations are under way, I can't speak of any names at present, but I'll be working hard this weekend," Kosor said answering questions from the press after a conference of the national association of returnees.
When asked if both positions would be taken over by one person, she said, "We shall see".
Croatia's deputy prime minister and minister of economy, labour and entrepreneurship, Damir Polancec, resigned from his duties Friday amid a burgeoning corruption scandal.
"I do not want to harm Prime Minister Jadranka Kosor, our party and government, and therefore I've decided on this move," Polancec announced at a Friday press conference.
Polancec's decision to step down comes months after he was publicly linked with a corruption scandal
involving Croatia's Podravka food company.
A police investigation of the Podravka case started three weeks ago, after it was revealed that Podravka was giving loans to other Croatian companies under suspicious circumstances.
Several top Podravka officials were detained on suspicion of attempting to acquire a 25 per cent stake in the company using Podravka money, which they channeled through another food company and a brokerage firm.
Polancec was Podravka manager and a member of its supervisory board for a number of years prior to taking up his government posts in 2005.
Kosor would not comment on the criteria for the appointment of the new economy minister, saying that there were several shortlisted candidates, but that she would have to hold additional talks with them, as well as with her colleagues in the ruling HDZ party and in the ruling coalition.
She added that she wanted the person who would take over the economy ministry to be willing to work 24 hours a day on solving problems.
Asked if she was looking for the new economy minister among HDZ members, she said that she was looking for a person who would be able to complete the process of privatisation in the shipyard industry and deal with many other problems, Radionet reports.
The PM would not answer if she had known about Polancec's claim that President Stjepan Mesic had asked that the Podravka food company grant a loan to the SMS food producer. She added that she had discussed with Polancec all problems related to Podravka.
Asked if this should be investigated by Chief State Prosecutor Mladen Bajic, Kosor said the Office of the Chief State Prosecutor was doing its job.