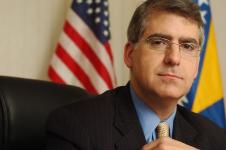 Bosnia's largest newspaper publisher Avaz and the country's Islamic Community has accused the office of the top international envoy in the country of slander, after its officials allegedly implicated top Bosniak (Bosnian Muslim) leaders in crime.
The Avaz Publishing Company announced they are planning to press charges against Deputy High Representative Raffi Gregorian and an international analyst identified only as Eric over a report they allegedly prepared, that included a criminal network diagram mentioning most of Bosnia's Bosniak political, religious, business and media leaders.
"Monstrous fabrications and false accusations about business schemes and transactions which never happened and which are impossible were presented by the Office of the High Representative (OHR) to the diplomatic community in Sarajevo," Avaz said in a statement.
"We intend to hire legal advisors in Washington and in Europe to require before the courts that the OHR pays us damages of at least 50 million euros," it added.
The statement was issued after excerpts of a report and a criminal network diagram allegedly prepared by OHR officials had been published last week by Avaz's publications Dnevni Avaz daily and weekly magazine Global.
Among others, Avaz's owner Fahurdin Radoncic and spiritual leader of Bosnia's Muslims Mustafa Ceric were shown in the diagram at the center of a criminal network including a number of other leading Bosniak businessmen, politicians and clerics.
The newspapers said that the report had been prepared by Gregorian and Eric for the use by international embassies and organisations in Bosnia.
The report, they said, included accusations that the listed Bosniak leaders were using their political power, criminal links and accumulated wealth to also "empower and strengthen Islamic influences in the region and globally".
Reacting to the accusations, the OHR said in a statement that what the newspapers have printed "appears to be graphic versions of open source reporting over the last few years".
"The High Representative deeply and genuinely deplores any inconvenience or embarrassment caused by these publications," the statement said.
Bosnia's Islamic community said it was "shocked" with the report, calling on the High Representative Valentin Inzko "to identify and adequately sanction" the persons who prepared it.
Following its session on Saturday, the Council of Bosnia's Islamic Community issued a statement saying that the diagram and the report were "reminiscent of the (Nazi Germany's) final solution for the Jewish question in Europe."
"We strongly believe that the OHR's diagram is a result of individual prejudices and stereotypes," of some international officials, it said.
"I think that my team has not produced any scandal," Inzko said in an interview for Dnevni Avaz on Sunday.
"I ordered an internal investigation…in order to determine if these accusations are founded," he said, however added that "it is already clear that I have not ordered an investigation against any individual or organisation outside the OHR."