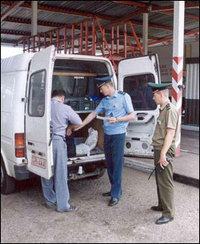 At the present stage, Georgian MP of Christian-Democrats fraction Nika Laliashvili thinks it is necessary to set up Upper Lars check-point between Russia and Georgia. At present, the situation in the North Caucasus is very intense. Setting up the check-point is unreasonable, opposition MP said at a plenary meeting of the parliament on November 3.
MP thinks it is necessary to convene the meeting of Security Council on this regards and consider this issue in working atmosphere. Opposition members participate in open meetings of the Georgian national Security Council.
"Kazbegi will get a chance to rehabilitate infrastructure after setting up a check-point. It will be positively affected on local population. But this process has a risk. There are intense processes in North Caucasus. Armed groups can enter Georgia after setting up of a check-point. It is impossible to solve this issue immediately. Authorities must take responsibility in working regime but not in TV show," Laliashvili said.
Setting up of a check-point Upper Lars became urgent after the Russian side said that Russia and Georgia hold talks on setting up a check-point. The Georgian Foreign Ministry denied this message by stressing that it holds consultations on this issue only with Armenia. Armenia is interested in setting up of this check-point. It will be provided with road-transportation with Russia via Georgia.