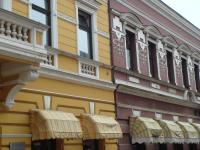 An IMF delegation arrived in Bosnia on Wednesday to start the first quarterly review of the country's progress in fulfilling terms from a 3-year stand by arrangement worth 1.2 billion euros.
After meeting with the delegation, lead by Costas Christou, Bosnia's Finance and Treasury Minister Dragan Vrankic said that the review focused on the ongoing macroeconomic trends and implementation of cost-cutting measures agreed upon as part of the loan agreement reached in July.
"We noted with satisfaction that adoption of 2010 budget was the only remaining condition to be fulfilled (by Bosnia's central government)," a statement from Vrankic's office said.
Despite the optimistic tone of the statement, the adoption of the budget that has to take place by the end of the year could turn out to be a difficult task as it has to be agreed upon by the country's two highly autonomous parts – the Croat-Bosniak (Bosnian Muslims) dominated Federation and Serb-run Republika Srpska (RS).
Due to their disagreements, with the Federation insisting on increasing the budget and Republika Srpska strongly opposing it, adoption of the country's budget has traditionally been delayed.
This year's budget, for example, was not adopted until the end of January 2009.
Christou previously told the local media that the Federation had to reform its social benefits program and slash payments, most notably to war veterans.
The region's parliament caved in to decorated war veterans' demands early in October, ordering the goverment to reverse its plan to cut their benefits by ten per cent, despite the government insisting that the decission might bring in question the IMF loan arrangement.
Bosnia has already received 202 milion euros from the loan, while the reminder will be provided in installments depent on quarterly reviews