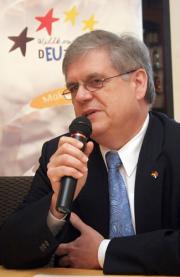 German Ambassador to Serbia Wolfram Maas said that Kosovo and Holland are not obstacles on Serbia's path towards joining the European Union.
He said that Serbia's task is to complete all conditions that are expected of any other candidate for EU membership.
"There is only one obligation before Serbia for EU entrance, and I think it is better to call it a challenge—to complete all conditions for joining the Union. This is the criteria from Copenhagen that must be fulfilled by all candidate-states. I do not see Kosovo and Holland as obstacles in Serbia's EU integration," Maas said. 
He said that Holland's demand for Serbia's full cooperation with the Hague Tribunal coincides with Serbia's stance, which obligates it to arrest individuals accused of war crimes.
"As far as Kosovo is concerned, we never asked Serbia to recognize Kosovo as an independent country. The criteria from Copenhagen demands the development of good neighborly relations, but that is something different from recognition," Maas said.
He stressed that the adoption of the Lisbon Agreement is of great importance for the functionality of the Union, and for opening the door to accepting new EU member-states.
"The Lisbon Agreement, even though it dos not have any direct ties to EU enlargement, is an important signal that the Union has done its homework well and that it is now ready to accept new members," Maas told Politika.
Speaking of aid coming from the EU and Germany to Serbia, the ambassador said that his country has secured EUR 870mn in credit and other forms of aid for Serbia since 2000, while the EU has helped with about EUR 2bn.
He reminded that the implementation of the Stabilization and Association Agreement between Serbia and the EU has already begun, even though it has not taken power officially.