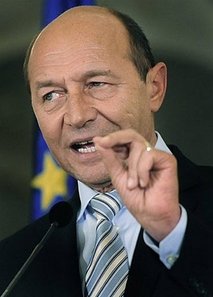 Romanian President Traian Băsescu, who hopes to win second mandate, has sent critics to the opposition and media heads during the election rally in Cluj.
"I will not give up fighting against Parliament and media magnates. I want second mandate," Băsescu said before three thousand supporters. The idea on cutting number of MP is at the basis of Romanian President's campaign. According to him a Parliament with 471 MPs is too expansive for tax payers.
Presidential elections in Romania will be held on November 22. It is expected Băsescu and Mirca Joana to run at run off vote.