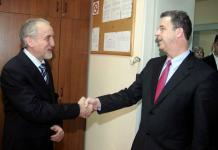 Serbian War Crimes Prosecutor Vladimir Vukcevic said that the UN's Chief War Crimes Prosecutor Serge Brammertz has written that fugitive Ratko Mladic is "not within reach" of Serbia's security services.
In an interview with Radio Free Europe, Vuckovic added that nobody could say whether Mladic is in Serbia or not.
"Brammertz only said that Mladic was not in our reach, which is obvious. If he were, he would have probably been located and arrested," Vukcevic said.
"No one told Brammertz that Mladic was not in Serbia because the person who would say that, would also have to know where he is," he added.
Local media report that Brammertz is likely to give Serbia an upbeat assessment of the country's cooperation with The Hague based Tribunal in his upcoming regular report to the UN's Security Council on 3 December. They speculate that the prosecutor will say he is satisfied with Belgrade's current cooperation.
The report is considered of crucial importance for Serbia's EU aspirations. The country's EU progress has been blocked by the Netherlands, whose government has blocked the unfreezing of a trade deal between Belgrade and EU before the two remaining fugitives Ratko Mladic and Goran Hadzic are handed over to the Tribunal.
The chairman of Serbia's council for cooperation with the War Crimes Tribunal in The Hague, ICTY, Rasim Ljajic says that he has no complaints about Brammertz's latest report.
"This is the first report that Serbia has no objections to, and the first report which stresses that the prosecution of the Hague Tribunal is satisfied with the efforts being made in locating the two remaining Hague fugitives," Beta news agency quoted Ljajic as saying.
He however say that it is too early to give a final evaluation of the report as Serbian government officials only saw a draft of the report that is circulating Security Council member-states.