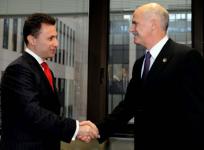 There were no significant steps forward in the Athens-Skopje "name" row. But there were signs of improved bilateral relations after the prime ministers of Greece and Macedonia, George Papandreou and Nikola Gruevski, met on Friday afternoon in Greece near their bilateral border.
"We were told that Greece keeps positions… so in that respect we cannot talk about any progress," Gruevski told media after the talks. "We will continue our meetings and thus increase the chances for a solution to be found."
The two met on the sidelines of a trilateral meeting on climate change that included Albania.
The tête-à-tête meeting was seen as an opportunity to make significant progress on the 18-year-old name row, which now threatens to derail Macedonia's chances of getting a start date for EU accession negotiations after the Commission recommended that member states fix a date at their meeting on 7 December. Greece has threatened to block Macedonia's EU accession process pending a solution to the dispute.
Papandreou expressed hope for solving name dispute. "The issue goes back 18 years and it can't be solved in a few days. I'm hopeful that in the next few months we can find an acceptable solution," he told Greek media.
Papandreou pointed out that name talks will continue under UN patronage.
Last year Athens blocked Skopje's NATO accession arguing that the country's constitutional name, Republic of Macedonia implies territorial claims towards its own northern province which is also called Macedonia. Greece has now threatened to also block Macedonia's EU accession.
Local media argue that variations of the name Northern Macedonia are being considered as a possible compromise option.
The European Commission Chief Jose Manuel Barroso will meet Macedonia's Prime Minister on 2 December. This is seen by observers as the last chance for some progress ahead of the EU Council session.