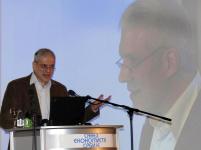 Serbian President Boris Tadic said that Serbia needs a different approach towards Kosovo, saying the current rigid stance is not yielding results.
"A different approach is what Serbia needs today…inflexibility is one of the primary problems which we face. Innovation is needed now more than ever in reaching political decisions," Tadic told journalists in Belgrade.
"He who has not learnt the simple lesson that a rigid, stiff and overly traditional approach doesn't give results and can't be repeated in the future, loses the right and legitimacy to perform his or her job in the present," he added.
Turning to Serbia's EU accession process, he said his country's application to join the bloc will be submitted after Serbia's interim trade agreement with the EU is unblocked. He said there is no point in submitting an application only for the Commission to sit on it for months, adding that his country will only apply when it expects to receive a reply in the shortest possible time.
Tadic defended his government's foreign policy activities, saying Serbia is currently conducting complicated negotiations on several levels.
"I don't care how it looks to the public, I care about the results of our actions, because if we were interested in the public's reaction, then we would hurry up with the application, but we must pay attention to what the consequences of that application or any other initiative that we launch could be," said the president.
The government has been under pressure to submit an application for membership before the EU unblocks the trade agreement. But EU officials have warned Serbia that it is too early for such a move.