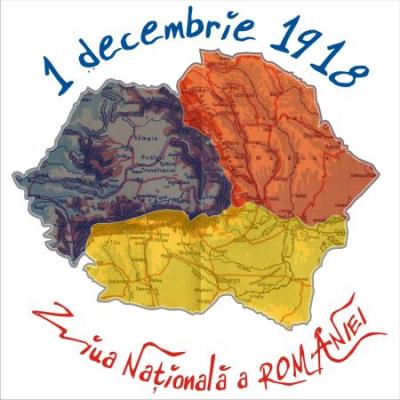 "The National Assembly of all Romanians in Transylvania, Banat and the Hungarian Country, gathered by its rightful representatives at Alba Iulia on December 1, 1918, decrees the unification of those Romanians and of all the territories inhabited by them with Romania.
The National Assembly proclaims above all the inalienable right of the Romanian nation to the whole Banat bordered by the Mures and Tisa rivers and the Danube," says the Resolution adopted by the representatives of all the nations and ethnic groups, who came together on December 1, 1918 in Alba Iulia to seal the unification of the country.
Back in 1918 the Romanian Kingdom was formed of Moldavia and Wallachia. Other Romanian provinces were under either Hungarian or Ottoman occupation. December 1st celebrates today not only the union between Transylvania and the Romanian Kingdom, but also the union of the provinces of Banat, Bessarabia and Bukovina with the two. Moldavia and Wallachia united in 1859 and formed the "United Principalities of Moldavia and Wallachia."
Bessarabia united with the United Principalities on April 9, 1918 – few months before the Great Union that will form "Greater Romania".
Historians say the Great Union was the result of the whole Romanian nation's wish to live in a national state. The Great Union was and remains the greatest event in the Romanian history. Those who adopted the Resolution in Alba Iulia wanted a Greater Romania forever, but 22 years later Bessarabia, Northern Bukovina and Hertsa Region no longer formed part of Romania, but of the Soviet Union.